Galena Pet-Friendly Lodging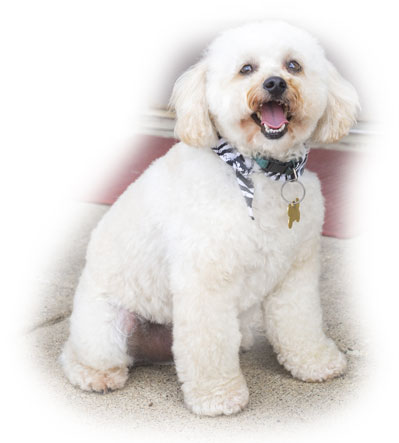 Meet Oliver, Director of Pet Relations
Relax, run and have fun on 10 acres of peaceful, playful, private countryside. As Director of Pet Relations, I'm here to make sure you and your "parents" enjoy your time in beautiful Galena, IL as our pampered guests.
At LeFevre Inn & Resort, we love to treat you. Our pet package welcomes you with an assortment of homemade dog cookies and a squeaky toy. Poopoo bags are available in receptacles throughout the Resort. You can leave your dishware at home as we even provide that for our furry friends.
For everyone's safety, we do have a few house rules to keep you comfy and enjoying your stay.
Pre-Approval – Please have your "parents" mention you when making reservations so we can prepare your treats and pampering items ahead of time!
Kennels – Please be sure to bring yours. You need to snuggle up and hang out in your kennel if your "parents" decide to leave the room without you.
Leash – We need to keep close to our "parents" to make sure they don't stray while at LeFevre Inn & Resort. Leashes must be used on resort grounds.
Pet Guest Fee – $55 + tax per dog – per stay – Poodles stay free!
LeFevre Inn & Resort reserves the right to decline the stay of any pet. Please – dogs only. No other pets are allowed on the property.
Looking for more pet-friendly accommodations for your buds? If we're booked at LeFevre Inn & Resort, please contact Grant Hills Motel, budget friendly lodging with a big yard, too.
Pet-friendly places to visit in Galena, Illinois, and the surrounding area.
Places
Apple River Canyon State Park
Buehler Preserve
Casper Bluff Land & Water Reserve
Horseshoe Mound Land Preserve
Galena River Trail
Grant Park
Hanover Bluff Natural Area & Nature Preserve
Iris & Jack Witkowsky State Wildlife Area
Keogh Effigy Land & Water Reserve
Rall Woods State Natural Area
Schurmeier Teaching Forest
Tapley Woods State Natural Area
Wapello Land & Water Reserve
Galena Trolley Tours
Linmar Gardens
Services
Elite Pet Sitting
Moon Valley Pet Lodge
Galena Square Veterinary Clinic
Shops with pet specialty items or treats
New Earth Animals, 227 S. Main Street
Rocky Mountain Chocolate Factory, 207 S. Main
Dining
Miss Kitty's – The Grape Escape
Galena Cellars Vineyard & Winery
Vinnie Vanucchi's Patio
Kaladi's 925 Coffee Bar